Transportation and logistics coverage includes the major role Alaska ports, hubs, facilities, terminals and infrastructure provide for freight cargo and exports/imports, plus passenger travel operations. Business editorial focuses on the industries related to Alaska's ports, harbors, and docks and the goods moved via air, rail, truck, and ocean shipping operations.
Latest Transportation News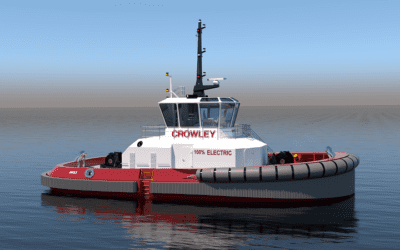 Crowley Maritime Corporation will lead the next generation of industry sustainability by building and operating eWolf, the first all-electric powered harbor tugboat that can complete a job without expending a drop of fuel.
read more
Assisted by local contractors with specialized helicopters, GCI crews will make more than 200 round trips this summer to deliver approximately 102,000 gallons of diesel fuel to these remote sites.
read more
Comprised of little more than a roughly 3,300-foot-long runway, an apron, and a small terminal, rural airports ensure year-round access to residents and tourists and keep communities supplied with goods, equipment, and other everyday essentials.
read more
Featured Transportation Spotlight Business Profiles
Spotlight Business Profiles
JEFFCO Grounds Maintenance
American Marketing Association Alaska Chapter
Thomas Head & Greisen, PC
National Cooperative Bank
The 2021 Best of Alaska Business Awards
Welcome to the 2021 Best of Alaska Business awards! We ask our readers to give us their input on the best businesses that Alaska has to offer, ranging from flower boutiques to accounting firms. Throughout March, readers voted in record numbers, yet another indication after a trying year of how Alaskans take extra effort to support local businesses.