May Fishlines Newsletter
Alaska Sea Grant
Published:
Vol. 36, No. 5
May 2016
Coming up
Alaska Sea Grant Chooses Three State Fellows for 2016
Three new Alaska Sea Grant State Fellows will gain professional experience in marine policy in Alaska, starting this summer—Sarah Apsens, Jane Sullivan, and Jennifer Marsh. All three are fisheries graduate students at the University of Alaska Fairbanks School of Fisheries and Ocean Sciences, planning to finish their degrees in the next several months.
The Alaska Sea Grant State Fellowship, launched in 2015, offers soon-to-graduate or recently finished graduate students the opportunity launch their careers in marine and coastal policy. The program matches fellows with hosts in state or federal agencies in Alaska for a 12-month paid fellowship.
Sarah Apsens
Jane Sullivan
Jennifer Marsh
Soon to earn her MS degree, Sarah Apsens will work at the National Park Service in Anchorage, possibly looking at whitefish habitat use or assessing the potential impact of oil spills on intertidal communities. Her work will include data collection, statistics, and writing.
"I know by working with NPS that I will get exposure to a wide array of habitat types and management issues," Apsens said. "I am interested to see how NPS utilizes science to preserve and manage the parks' many natural resources and educate the public." The National Park Service is a new host in the program.
MS student Jane Sullivan has been placed with the NOAA Sustainable Fisheries Division in Juneau. Her projects will include improving sampling design and protocol in the fisheries observer program or best practices for incorporating observer data into stock assessments.
Sullivan said the fellowship aligns well with her vision of the future. "My long-term goal is to work with a state or federal agency in Alaska, and I hope to use my background in quantitative fisheries to generate tools that inform policy makers. I'm excited about the mentorship component of the fellowship program."
Jennifer Marsh will work with NOAA Fisheries in the Habitat Conservation Division in Anchorage, to update the essential fish habitat section for the Arctic Fisheries Management Plan, among other projects. Marsh is enthusiastic about the project. "One of the three potential target species identified in the fisheries management plan is Arctic cod, which is the focal species of my PhD dissertation research," she said.
Alaska Sea Grant program coordinator Adie Callahan played a big part in developing and implementing the fellowship program last year. "We're very pleased to have three fellows in our second year," she said. "Hosts and students both showed a strong interest. It's nice to see the fellowship program grow." Marysia Szymkowiak and Matt Robinson, the first fellows in the program, are completing their fellowships this summer.
Alaska Sea Grant shares the cost of the fellow stipends with the agency hosts. Recruitment for next year's hosts for the Alaska Sea Grant State Fellowship will begin in fall 2016, and students can apply in February 2017.
Salmon Hypothesis Proves Correct for Elementary Students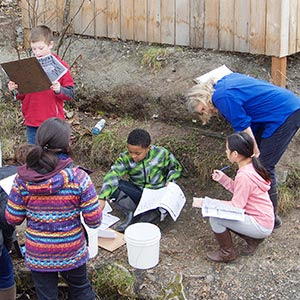 It's that time of year again—when Alaska teachers take advantage of the warming weather and move the classroom outside. The Anchorage School District resumed the Sea Week/Creek Week series of field trips for schools in the Chester Creek Watershed, supported by Alaska Sea Grant.
In April, marine education specialist Marilyn Sigman and partners led fourth graders from five elementary schools on field trips to Chester Creek tributaries. The students collected data on stream flow, water quality, and insects and other macroinvertebrates to find out if their stream was healthy enough for salmon.
In early May, all 260 students converged on Westchester Lagoon where the watershed connects to the ocean. At minnow traps set by the educators, students identified juvenile salmon from the lagoon. To everyone's surprise, adult pink salmon were migrating into the lagoon right in front of them. This was indisputable evidence to the students that the watershed supports the full life cycle of the salmon.
A $10,000 grant from Alaska Sea Grant will continue to support the Anchorage program, particularly to purchase equipment for kits that can be used throughout the year for watershed-related field trips. Unalaska City School, Petersburg, Yakutat, and Dillingham School Districts, also grant recipients, used funds to purchase equipment for field trips as well. Earlier this month the Petersburg School District took 36 fourth grade students up the Stikine River, a home to wild salmon and migratory birds.
Mercy Leaves Video Legacy
Deborah Mercy, co-communications coordinator at Alaska Sea Grant, retired last month after nearly 30 years with the Marine Advisory Program. During her time at the University of Alaska she wrote many media stories and produced dozens of award-winning videos, to train and assist the Alaska fishing industry and on other marine topics.
Mercy has provided a valuable visual record of Alaska marine resources and the people who work with them. Her vast video footage collection is archived at the UAF Rasmuson Library in Fairbanks, where it is available to researchers and other library users. Mercy's videos can be seen on Alaska Sea Grant's YouTube website.
Processors Learn Roe Techniques and Markets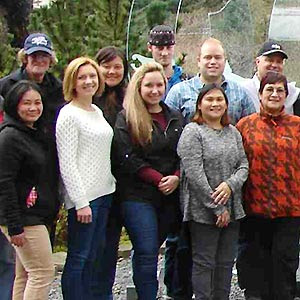 Earlier this month the Alaska seafood industry sent 28 processors to Kodiak for training on fishery roe products, held at the Kodiak Seafood and Marine Science Center pilot plant and organized by the Alaska Sea Grant Marine Advisory Program. During the two-day Roe School they practiced grading roe, processing sujiko and ikura, and testing for salt/sodium nitrite, and also learned about various products and packaging.
It may be two decades since roe processor training on this scale has been held in the Pacific Northwest and Alaska, according to Quentin Fong, seafood marketing specialist with the Marine Advisory Program. Fong gave presentations on world markets for the various roe products.
Pollock and cod roe are largely consumed in Japan, with some going to Korea. Salmon roe is eaten in Japan and a smaller quantity goes to Europe; Russia and Ukraine were traditionally significant markets until recent political developments. Japan is the main buyer for herring roe. All are harvested in Alaska.
The handling and processing technique sessions were taught by Marine Advisory seafood technology specialist Chris Sannito, seafood microbiologist Brian Himelbloom, Gleyn Bledsoe from Washington State University, and Chris Bledsoe of Aquatic Foods International. The instruction brought the processors up to date on roe, allowing Alaska companies to diversify when the opportunity arises.
Incentive for Pinger Use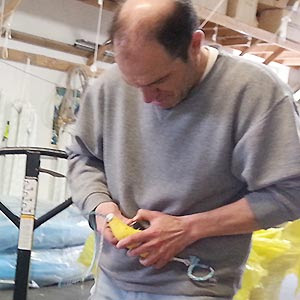 For several years, Alaska Sea Grant Marine Advisory researchers have engaged fishermen in testing the effectiveness of a pinging instrument to keep baleen whales out of fishing nets. The results show the pingers are often effective at preventing entanglement, but conclusions have been elusive.
This year Marine Advisory agents Torie Baker and Sunny Rice and marine mammal biologist Kate Wynne will have access to more data on pingers, nets, and whales. The Southeast Alaska Fisheries Alliance is offering a $25 rebate to fishermen who buy pingers, which cost about $100. Many fishermen who are buying pingers this season have agreed to share observations with Baker, Rice, and Wynne to build on their research. Pinger use has the potential to protect both the Alaska seafood industry and whales.
AOOS Ocean Film Contest
The Alaska Ocean Observing System is hosting its third annual Ocean Film Contest, seeking short films highlighting Alaska's coast or oceans. Films must be 10 minutes or less in length. You don't need to be a professional to submit a film! The deadline is September 16, 2016.

Fishlines is a monthly newsletter that highlights Alaska Sea Grant activities. Alaska Sea Grant supports wise use and conservation of Alaska's marine resources through research, education, and extension. Photo in banner by K. Byers.
This email was sent from Alaska Sea Grant, University of Alaska Fairbanks School of Fisheries and Ocean Sciences.