Warm weather and low natural gas prices dampen spot electricity prices this winter
Published:
The combination of one of the warmest winters (November-March) in decades and low spot natural gas prices contributed to low wholesale electric prices at major market locations during the winter of 2011-2012 (see chart below). Warm weather kept electric system load low across the East Coast and helped dampen the need for coal-fired generation. Natural gas generation was up significantly to take advantage of low natural gas prices. Reduced nuclear generation due to outages and reduced hydropower generation both served to moderate declining electricity prices in much of the country.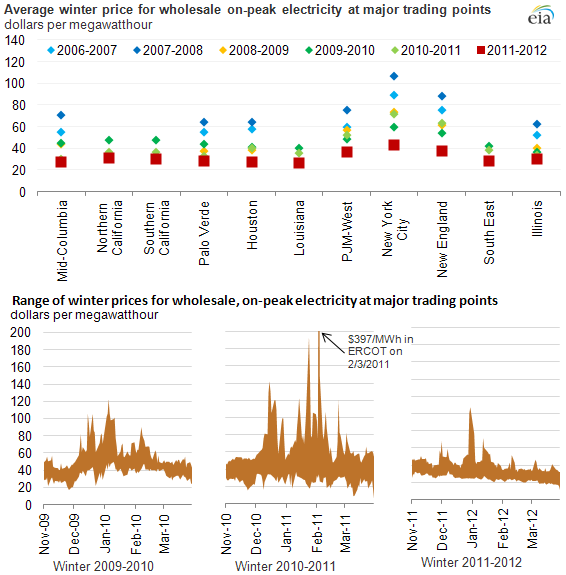 Source: U.S. Energy Information Administration, based on SNL Energy.
Note: Data include day-ahead, on-peak prices from Mid-Columbia (near the Washington and Oregon border), CAISO NP-15 (northern California), CAISO SP-15 (southern California), Palo Verde (in southwest Arizona), PJM N. Illinois Hub (northern Illinois), ERCOT Houston Zone, Entergy (Louisiana), PJM Western Hub, NYISO Zone J (New York City), NE-ISO Mass Hub (New England), MISO Illinois Hub (Illinois), and Into Southern (Southeast) pricing points.

On-peak, wholesale electricity prices generally ranged from $20-$50 per megawatt hour last winter, with some exceptions. Electricity prices dropped during the winter, especially starting in January, as spot natural gas prices neared their lowest levels in the past decade.
tags: coal , demand , electricity , ERCOT , hydroelectric , MISO , natural gas , nuclear , PJM , prices , spot prices , weather