Opposition To Offshore Drilling Ban Rises to 55%
Gas prices have been rising dramatically in recent days, and opposition to President Obama's continuing ban on oil drilling off the Eastern seaboard and in the eastern portion of the Gulf of Mexico is up from early December when the policy was first announced.
A new Rasmussen Reports telephone survey finds that 55% of Likely U.S. Voters now oppose the president's seven-year ban on offshore oil and gas drilling in part of the Gulf and along the East coast. That's a seven-point increase from 48%
three months ago
.  Thirty percent (30%) favor the offshore ban, down five points from the previous survey. Fifteen percent (15%) are undecided about it. (To see survey question wording,
click here
.)
Two-out-of-three voters (67%) now support offshore oil drilling, up from 60% in the December survey. Most voters have consistently supported offshore drilling for several years now, but this is the highest level of support since the BP leak erupted in the Gulf last April. Twenty-two percent (22%) oppose such drilling, while 11% are not sure.
When the president lifted the longstanding moratorium on offshore drilling last March, 72% agreed with his decision. But he quickly reinstated it when the leak took place. Since then, support for offshore drilling has ranged from 56% to 64%.
An overwhelming 76% of voters nationwide don't believe the United States does enough to develop its own gas and oil resources.  Only 15% think the country does do enough in this area.
Highlighting America's dependence on foreign oil, separate polling finds that Americans overwhelmingly believe the current political unrest in the Arab world will 
make them pay a lot more at the pump
.  Most voters have taken notice of the recent spike in gasoline prices and believe gas is
likely to top the $5 mark by the beginning of summer
.
Sixty-six percent (66%) of men oppose the president's ban on offshore drilling in certain areas, compared to 46% of women. Workers in the private sector oppose it more strongly than those who work for the government.
Sixty-nine percent (69%) of Republicans and 62% of voters not affiliated with either political party disagree with the president's seven-year offshore oil drilling ban, while a plurality (46%) of Democrats support the policy.
Republicans and unaffiliateds also feel more strongly than Democrats that the United States does not do enough to develop its own oil and gas resources.
Seventy-four percent (74%) of Mainstream voters believe offshore drilling should be allowed, while 53% of the
Political Class
oppose it.
Very few voters seem aware of the man the president has chosen to lead energy policy. Just 19% have a
favorable opinion of Energy Secretary Steven Chu
.  Twenty percent (20%) have an unfavorable view of him.  But 61% don't know enough about him to venture an opinion of the Nobel Prize laureate
Sixty-six percent (66%) of voters say renewable resources like solar and wind are the best long-term energy investment for America, the
highest finding to date
.  Twenty-three percent (23%) say fossil fuels like coal, gas and oil are the better investment.
Despite concerns about the price of gas, most
Americans still aren't likely to buy an electric car in the next 10 years
. 
Additional information
from this survey and a 
full demographic breakdown
are available to 
Platinum Members
only.
Rasmussen Reports is an electronic media company specializing in the collection, publication and distribution of public opinion polling information.  We poll on a variety of topics in the fields of politics, business and lifestyle, updating our site's content on a news cycle throughout the day, everyday.
Rasmussen Reports
Platinum Members
get an all-access pass to polling news, analysis and insight not available to the general public.
Scott Rasmussen
, president of Rasmussen Reports, has been an independent pollster for more than a decade. To learn more about our methodology, click
here
.
The survey of 1,000 Likely Voters nationwide was conducted on February 28-March 1, 2011 by Rasmussen Reports. The margin of sampling error is +/- 3 percentage points with a 95% level of confidence. Field work for all Rasmussen Reports surveys is conducted by 
Pulse Opinion Research, LLC
. See 
methodology
.
BREAKING POLL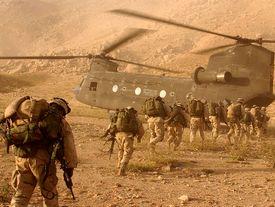 52% Want Troops Home from Afghanistan Within a Year
What You Can Learn About Wisconsin Dispute from Differences in Poll Questions: An Analysis By Scott Rasmussen
MOST RECENT RELEASES
TOP STORIES
©2011 Rasmussen Reports, LLC
Posted: March 7, 2011