Delta Air Lines plans to increase jet fuel yield at Trainer refinery
Published: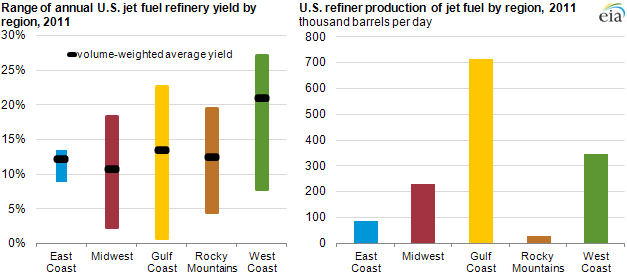 Source: U.S. Energy Information Administration, Form 810, Monthly Refinery Report.
Notes: Regions defined by PADDs. Data include only refineries that produce jet fuel. Data excludes production in Hawaii and Alaska. Yield = [Jet Fuel Production / (Crude Oil + Net Unfinished Oil Inputs)] x 100. The volume-weighted average yields, or black bands in the chart, represent the annual average jet fuel refinery yields for refineries in each region for 2011.
---
Delta Air Lines recently purchased the Phillips 66 Trainer refinery, which is located in the Philadelphia area and had been idle since the fourth quarter of 2011. In a Securities and Exchange Commission (SEC) regulatory (8K) filing, Delta Air Lines indicated that it plans to increase Trainer's jet fuel yield to 32%, higher than was previously seen at Trainer and significantly above the average yield of jet fuel in any U.S. refining region. Delta says a capital investment of $100 million is necessary to shift the refinery's jet fuel yield. Jet fuel production and yield (see charts above) currently vary across the country.
Jun 11, 2012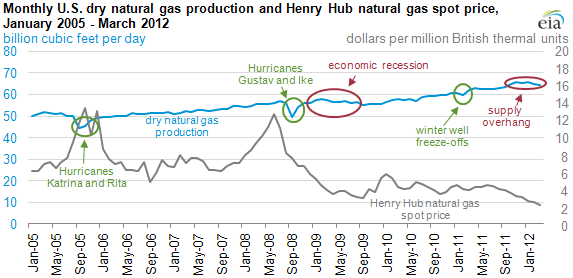 Sources: U.S. Energy Information Administration, Natural Gas Monthly. Henry Hub spot natural gas price (monthly average), based on Thomson Reuters.
---
U.S. dry natural gas production has increased since late 2005 due mainly to rapid growth in production from shale gas resources. However, there have been two notable instances (see red ovals in the chart) in the last seven years when natural gas production leveled off during a period of falling spot natural gas prices. The first was during the recent economic recession and the latest began in the fourth quarter of 2011 and continued through the first quarter of 2012.
Jun 8, 2012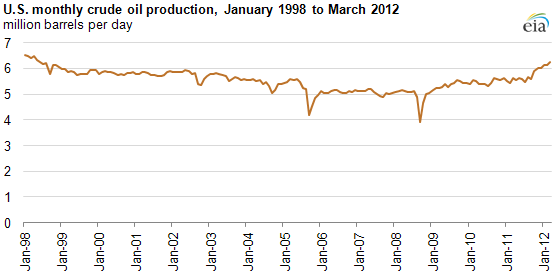 ---
Strong growth in U.S. crude oil production since the fourth quarter of 2011 is due mainly to higher output from North Dakota, Texas,and federal leases in the Gulf of Mexico, with total U.S. production during the first quarter of 2012 topping 6 million barrels per day (bbl/d) for the first time in 14 years.
Jun 7, 2012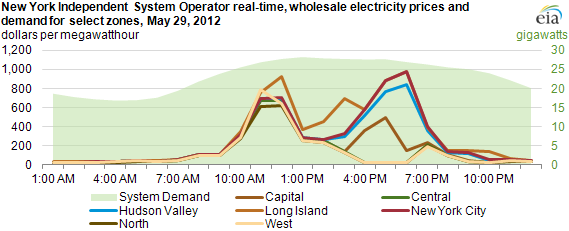 Source: U.S. Energy Information Administration, based on New York Independent System Operator.
Note: Prices represent select NYISO zones.
---
Temperatures in and around New York and Pennsylvania were 10-20 degrees warmer than normal on Tuesday, May 29, lifting electricity demand above seasonal norms. Peak demand in the area served by the New York Independent System Operator (NYISO) was above 28 gigawatts (GW), about 18% below the all-time peak of 34 GW, but high enough to make real-time wholesale prices spike to almost $1,000 per megawatthour (MWh). Adjacent areas in New England and Pennsylvania also saw high real-time wholesale prices.
tags: demand , electricity , ISONE , New England , New York , NYISO , PJM , prices , RTO (regional transmission organization) , transmission , weather , wholesale power , wholesale prices
Jun 6, 2012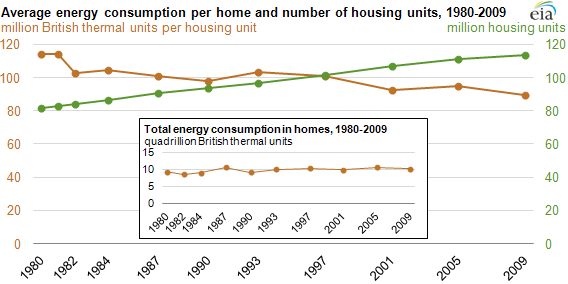 ---
Total U.S. energy consumption in homes has remained relatively stable for many years as increased energy efficiency has offset the increase in the number and average size of housing units, according to the latest results from the Residential Energy Consumption Survey (RECS). The average household consumed 90 million British thermal units (Btu) in 2009, based on RECS data. This continues the downward trend in average per-household energy consumption of the last 30 years. Improvements in efficiency for space heating, air conditioning, and major appliances have all led to decreased consumption per household, despite increases in the number of homes, the average size of homes, and the use of electronics. Newer homes also tend to feature better insulation and other characteristics, such as double-pane windows, that improve the building envelope.
Jun 5, 2012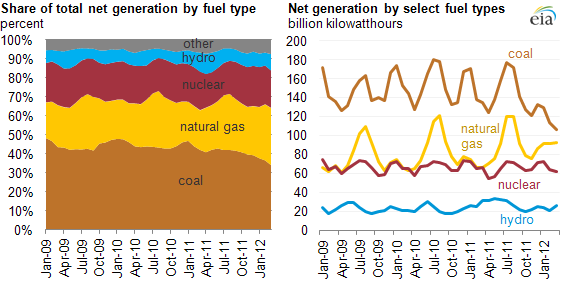 ---
Amid historically low natural gas prices and the warmest March ever recorded in much of the United States, coal's share of total net generation dropped to 34%—the lowest level since at least January 1973 (the earliest date for which EIA has monthly statistics). Despite seasonally low loads, natural gas-fired generation grew markedly and accounted for 30% of overall net generation by March 2012 (see chart above). Total electricity demand fell this winter as warmer weather reduced home heating requirements.
Jun 4, 2012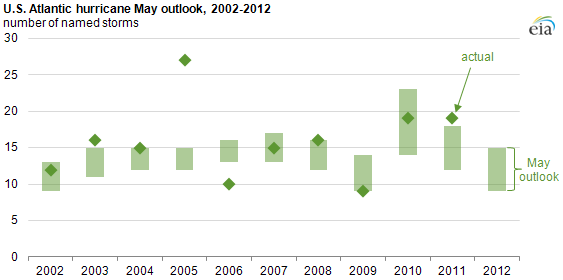 ---
On May 24, 2012, the National Oceanic and Atmospheric Administration's Climate Prediction Center said that, for the six-month hurricane season beginning June 1, there is a 70% chance of 9 to 15 named storms in the Atlantic Basin, of which 4 to 8 may strengthen to hurricanes. Of those, 1 to 3 may become major hurricanes (Category 3, 4, or 5). During the hurricane season from 1981 through 2010, the Atlantic basin averaged 12 named storms and 6 hurricanes each year—3 of which were major hurricanes.
Jun 1, 2012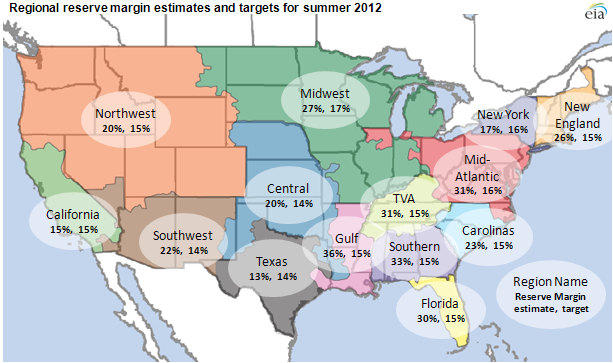 ---
The electricity utility industry employs a simple strategy for maintaining reliability: always have more supply available than may be required. Yet it can be difficult to forecast future electricity demand, and building new generating capacity can take years. The industry regularly monitors the supply situation using a measure called reserve margin. Regional estimates of reserve margins are compared to pre-determined target levels to assess supply adequacy.
May 31, 2012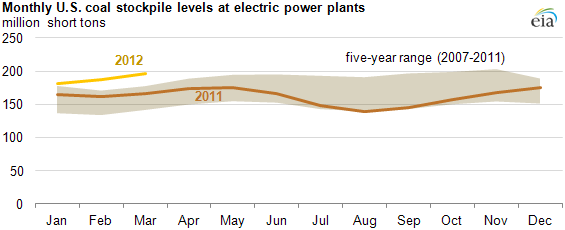 ---
Estimated coal stockpiles at U.S. electric power plants in March 2012 (latest EIA data available) were about 196 million short tons, almost 18% above the level in March 2011 and above the five-year range. Coal stockpiles are up as a result of declines in coal consumption by electric power plants.
May 30, 2012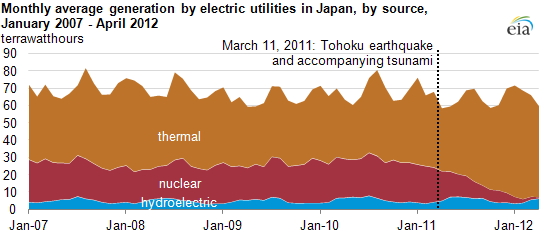 Source: U.S. Energy Information Administration, based on Bloomberg, L.P.
---
Japan's use of thermal generation—the combined amount of electricity generated from natural gas, oil, and coal-fired plants—was up 40% for January-April 2012, compared to the same period in 2011 due to the Tohoku earthquake and related tsunami that led to the accident at Tokyo Electric Power Company's (TEPCO) Fukushima Daiichi nuclear power plant and subsequent outages at other plants (see chart above).