Competition among fuels for power generation driven by changes in fuel prices
Published: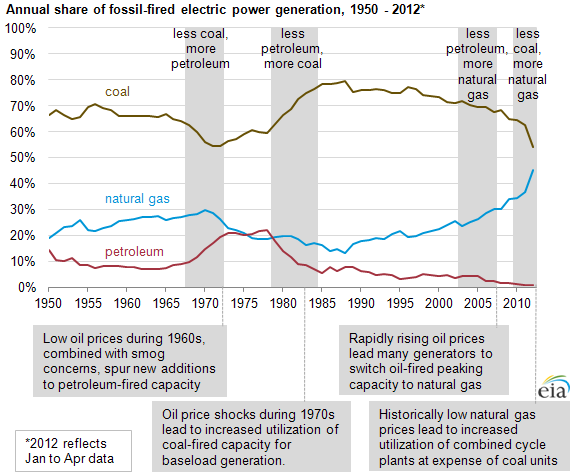 Sources: U.S. Energy Information Administration, Annual Energy Review and Electric Power Monthly.
Notes: Shares are calculated using generation supplied by all sectors. Data for 2012 include January through April. Start and end years for the grey boxes are approximate. A very small percentage (generally less than 0.5%) of fossil-fired generation is from other gases, not shown.
---
The mix of fuels used to generate electricity has varied over time. Several factors, especially changes in relative fossil fuel prices, have influenced the mix of energy sources used. EIA recently released a study on the competition between coal, natural gas, and petroleum used for electricity generation, which estimates what economists refer to as the elasticity of substitution among the fuels. The 'elasticity of substitution' concept measures how the use of these fuels varies as their relative prices change.
Jul 12, 2012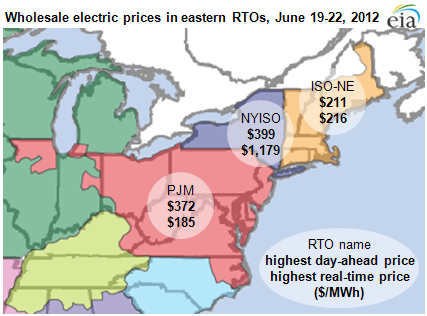 Source: U.S. Energy Information Administration, derived from Regional Transmission Organization (RTO) data.
---
In a fairly typical summer weather pattern, high temperatures moved out of the Midwest into the population centers of the Mid-Atlantic and Northeast regions during June 19-22, 2012. Heat waves like this one drive up air conditioner use and electricity demand. Electric systems are designed to maintain electric supply under these conditions.
Jul 11, 2012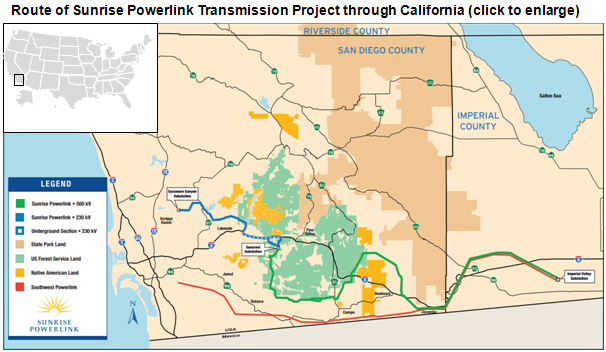 ---
The Sunrise Powerlink Transmission project, which came online on June 18, 2012, adds approximately 800 megawatts (MW) of transmission capability to the Southern California electric grid. The new transmission lines, shown as blue and green lines on the map, will bring renewable energy from Imperial County to San Diego. The additional transmission capability will also help the Southern California electric grid address this summer's capacity shortage that resulted from the unplanned outages at the San Onofre nuclear generation station located near San Diego.