Coast Guard Signs on to USDA Southeast Alaska Investment Strategy
Published:
with Forest Service Interagency Agreement on Renewable Energy and Biomass, Biomass is a growing energy source for Southeast Alaska economy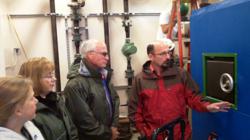 Juneau, Alaska (PRWEB) July 27, 2012
The USDA's Southeast Alaska investment strategy gained more federal buy-in when the Coast Guard recently signed an interagency agreement with the Forest Service to support forest products and renewable energy initiatives. Biomass is an important and growing energy source for the Coast Guard in Alaska according to Civil Engineering Unit-Juneau Executive Officer Wes Hout. The Coast Guard has been leading an effort to convert from heating with oil to the use of wood pellets at their larger Alaska facilities and is interested in collaborating with the Forest Service to further that work.
Coast Guard Civil Engineering Unit-Juneau environmental engineer, and agency biomass subject matter expert, Robert Deering, has been instrumental in supporting the Coast Guard's renewable energy initiative.
"Our unit believes the Coast Guard will ultimately benefit if Mr. Deering's skills can be more widely leveraged by the federal agencies in the region, resulting in greater regional demand for biomass," said Hout. "CEU Juneau believes the Coast Guard will ultimately benefit from the development of an industry in Southeast to produce this local energy source." According to the Coast Guard, previous analysis indicates that locally sourced biomass will decrease overall heating energy costs for the Coast Guard and other residents in the region.
Under the interagency agreement with the Forest Serice, Deering, along with Forest Service Woody Biomass and Stewardship Program Manager Dan Parrent, will work closely with the USDA's Southeast Alaska forest products and renewable energy workgroups and with the State Division of Forestry, Southeast Conference, and the Alaska Energy Authority. The agreement allows Deering to work for the Tongass National Forest for one year, beginning in October. His position will be funded by the Forest Service and the State of Alaska, Department of Natural Resources, Division of Forestry.
"Bob's addition to the USDA effort to support economic diversification in Southeast Alaska will also aide the Forest Service in achieving our long-term management goals in the region," said Forest Service Regional Forester Beth Pendleton. "That includes supporting healthy communities and a healthy economy through the use of woody biomass as an affordable heating source."
Division of Forestry State Forester Chris Maisch is optimistic about the agreement for woody biomass projects in Southeast.
"There is great potential from creating a large commercial demand for wood pellets at various Coast Guard facilities," said Maisch. "The effort would provide a much needed anchor client for wood pellets and would further development of this emerging opportunity for the forest products sector in Southeast."
The financial contribution was allocated from the annual consolidated grant the Division recieves via the Forest Service State and Private Forestry Program that funds a suit of Forestry programs ranging from forest health to state wildland fire assistance.
One of Deering's jobs under the agreement will be to develop a strategy and action plan to facilitate conversion of oil heat to biomass and to initiate implementation of priority projects identified in the plan.
U.S. Sen. Mark Begich praised the joint decision by the Forest Service and the Coast Guard to appoint Deering as a biomass coordinator for federal agencies in Southeast Alaska. "This new position, filled by an energetic person, can coordinate across federal agencies and the private sector," said Begich. "Biomass can create jobs in the region and lower the costs of heating while using sustainable fuel."
Other USDA agencies involved in the investment strategy for jobs and healthy communities in Southeast Alaska also appreciate the Coast Guard's willingness to provide Deering's services to the biomass and renewable energy effort. "This will be a symbiotic relationship," said USDA Rural Development State Director Jim Nordlund. "Bob Deering will play a key roll in bringing all of the biomass players in Southeast Alaska together to maximize knowledge and efforts across federal, state and local groups."
Other purposes identified for the interagency agreement include identifying deficiencies in the regional logistics and production supply chain, and developiong solutions for addressing those deficincies.
"Successfully using woody biomass to provide a cheap source of renewable energy could be the foundation to create new jobs in ocean products, visitor products and forest products; the other three economic clusters that we are working with in Southeast Alaska," said Farm Service Agency State Executive Director Danny Consenstein. "Cheaper energy costs are at the root of many economic turnarounds."
"I think this was a great move," said Begich. "With ever climbing diesel prices, biomass is a big part of the future in Southeast Alaska, and Bob's the guy to make it happen."
For more information on the USDA Investment Strategy in Southeast Alaska to create jobs and healthy communities visit: http://www.fs.usda.gov/goto/r10/economicdiversification