7-11-12 - Congress Reschedules Markup to Revise Obama's Offshore Leasing Plan
Published:
In this Calgary Herald story by Jim Wood, Canadian Ambassador to the US, Gary Doer, says American support for the Keystone XL Pipeline is strong. -dh
---
Yesterday, as part of a more than year long investigation into the Obama Administration's rewrite of a 2008 coal regulation, the Stream Buffer Zone Rule, that could cost thousands of jobs, negatively impact the economies of 22 states and significantly harm American energy production, Natural Resources Committee Chairman Doc Hastings (NGP Photo) sent a letter to Department of the Interior Secretary Ken Salazar and Office of Surface Mining Reclamation and Enforcement Director Joseph Pizarchik inviting them to testify at a July 19th oversight hearing.
---
We received this update on the House's effort to replace the Obama Administration's lackluster leasing plan from House Natural Resources Committee Press Secretary Spencer Pederson:
Slight change in plans due to the Floor schedule.... Due to House Floor debate on the Committee's National Strategic and Critical Minerals Production Act now anticipated to begin shortly after Noon on Wednesday (today), markup of the replacement offshore drilling plan (H.R. 6082) will move to the next available day, which is Wednesday, July 18th since the House will be debating the Critical Minerals bill again on Thursday. While President Obama took three and half years to rewrite our nation's offshore drilling plan to close off 85% of our offshore areas and effectively reimpose the moratoria lifted in 2008, Chairman Hastings is committed to moving swiftly to ensure action is taken to create jobs and produce more American energy during the 60-day Congressional review period that began on June 28th. (Please see our June 29 report on this issue.) -dh
Offshore Areas Open for Drilling when President Obama Took Office
Offshore Areas Blocked for Drilling under President Obama's
Final 2012-2017 Plan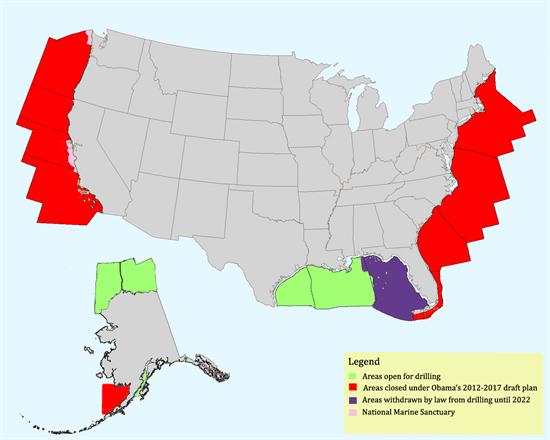 ADN/AP by Becky Bohrer. A coalition of conservation groups sued the federal government Tuesday over its approval of oil spill response plans for an Arctic Ocean drilling program.
---
Related Consumer Energy Alliance Links:
Roughly a dozen environmental groups filed a lawsuit Tuesday challenging the government's decision to sign off on Shell's plans for cleaning up any oil spilled during Arctic drilling over the next two summers. Although the case is unlikely to affect Shell's plans to bore up to five wells in the Chukchi and Beaufort seas this summer, a verdict for the environmentalists could postpone company's summer 2013 drilling program and force the government to more rigorously vet other firms' plans to clean up offshore oil spills from the Arctic to the Gulf of Mexico.
The US House Natural Resources Committee unveiled legislation on July 9 that would replace the 5-year US Outer Continental Shelf program the US Department of the Interior announced on June 28 with a more aggressive plan. The committee said it will mark up the bill—HR 6082—on July 18. Chairman Doc Hastings (R-Wash.) noted that Congress has 60 days after DOI develops a proposed final 5-year OCS program to review it. He said the Obama administration's current 2012-17 program represents a significant step backward by putting 85% of the OCS off-limits for oil and gas leasing and effectively reimposing congressional moratoriums that were withdrawn and presidential withdrawals that expired in late 2008.
Why should we be afraid of the Keystone XL pipeline? Try this name: Enbridge Energy Partners. Never heard of them? Me neither. Until today. On Tuesday, The Times reported on Enbridge and a July 2010 oil spill near Marshall, Mich.: A break in the company's pipeline released about 1 million gallons of oil into a marsh that then seeped into the Kalamazoo River, closing down more than 30 miles for a two-year cleanup. Doesn't ring a bell? That's probably because also in 2010, in the Gulf of Mexico, BP's Deepwater Horizon well spewed oil by the millions of barrels. And, fortunately for Enbridge, BP hogged the bad-news sportlight.
© 2001-2002-2003-2004-2005-2006-2007-2008-2009-2010-2011-2012 Northern Gas Pipelines
Web pages herein are protected by the Copyright laws of the United States of America and the Internet Copyright Act.
Site planning: September 2000 - Site construction initiated: January 1, 2001 - Site uploaded to Internet: March 31, 2001
http://www.northerngaspipelines.com http://www.arcticgaspipeline.com
"Everything that can be invented has been invented." Charles H. Duell, Commissioner, U.S. House of Patents, 1899
Categories: