Arctic Sea Ice News Jan. 12
Published:
Thursday 12th January 2012: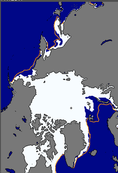 Click for high-resolution image. —Credit: National Snow and Ice Data Center
About these images
Sea ice data updated daily, with one-day lag. Orange line in extent image (left) and gray line in time series (right) indicate 1979 to 2000 average extent for the day shown.
Learn about update delays and other problems which occasionally occur in near-real-time data. Read about the data.
Read scientific analysis on Arctic sea ice conditions. We provide an update during the first week of each month, or more frequently as conditions warrant.

Visit our new Icelights section. Get answers to your burning questions about ice and climate.