EIA highlights 13 key accomplishments of 2013
Published:
With the year drawing to a close, EIA identified 13 accomplishments that marked an impressive year for the agency. Creating the innovative new monthly Drilling Productivity Report, launching the most comprehensive, dynamic, and interactive portal of the U.S. government's national and state energy data, and completing the largest active field collection in the history of the Commercial Buildings Energy Consumption Survey (CBECS) are just a few of EIA's achievements during a busy 2013.
A slideshow of these and other accomplishments can be viewed on the EIA website at: http://go.usa.gov/ZjF4.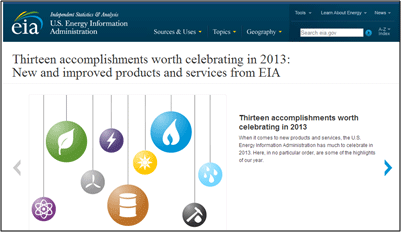 Notable accomplishments of 2013 include: