Winter in the Arctic: Ice and storms
Published:
Arctic sea ice continued its winter expansion, although ice growth slowed briefly in early November. The slowdown may have been related to a strong Arctic storm that tracked from the Bering Sea into the Beaufort and Chukchi seas. In the Southern Hemisphere, Antarctic sea ice is tracking near average for this time of year.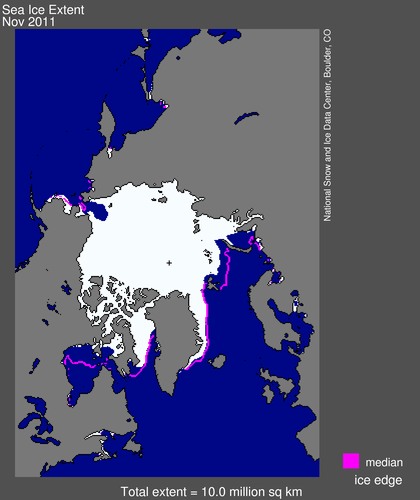 Figure 1. Arctic sea ice extent for November 2011 was 10.01 million square kilometers (3.86 million square miles). The magenta line shows the 1979 to 2000 median extent for that month. The black cross indicates the geographic North Pole. Sea Ice Index data.
—Credit: National Snow and Ice Data Center

Overview of conditions
Average ice extent for November 2011 was 10.01 million square kilometers (3.86 million square miles), 1.30 million square kilometers (502,000 square miles) below the 1979 to 2000 average. This was 170,000 square kilometers (66,000 square miles) above the average for November 2006, the lowest extent recorded for that month in the satellite data record.
At the end of November, ice extent remained below the 1979 to 2000 average in the Chukchi, Barents and Kara seas, and Hudson Bay was still nearly ice free. Ice extent was near average in the East Greenland and the Bering seas. These ice conditions may be connected to a strong positive phase of the Arctic Oscillation, which began during the last week of November. A positive Arctic Oscillation tends to help move ice out of Fram Strait and into the North Atlantic.
Further Reading
Cohen, J., and J. Jones, 2011. A new index for more accurate winter predictions, Geophysical Research Letters, vol. 38, L21701, doi:10.1029/2011/GL049626.
NOAA has released their annual Arctic Report Card, an annual compilation of scientific observations of the changing Arctic region. NSIDC scientist Walt Meier contributed to the sea ice section of the report.

NSIDC scientists provide Arctic Sea Ice News & Analysis, with partial support from NASA.