Christmas Greetings from the CEO of International Tower Hill Mines Ltd.
Published:
December 19, 2011
Dear Shareholders of International Tower Hill Mines,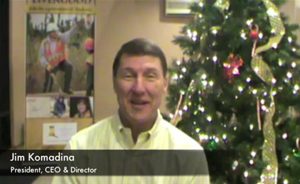 I would like to send you my warmest holiday wishes and to personally deliver five key message points on our Livengood project in Alaska. While stock markets worldwide have been increasingly distressed over the European soverign debt crisis, leading to weakness in the gold price and our share performance in recent months, I am confident that the tremendous behind-the-scenes work carried out by the Company over the past six months will soon unlock substantial value for shareholders. How so? I will explain by answering some of your most frequently asked questions…
In my September letter to shareholders, I had addressed the question of why ITH maintains 100% control of the Livengood project rather than partnering with a major producer. The answer was that ITH has, and will continue to build up, a development team that rivals that of any large mining company and full ownership helps us maintain maximum upside for shareholders. To this end, our latest addition to the development team was Al Thabit, a seasoned engineer who has helped built some of the largest mining operations around the world. We also welcomed to our Board in November new directors with tremendous Alaska, permitting and mining experience who will guide management on critical aspects of the mine development process.
I also take this opportunity to address two other questions more recently asked by investors: (1) How will the company finance this project without significant dilution to existing shareholders; and (2) can the company to go into production sooner than 2018? The short answer to the first question is that management has always been parsimonious with the issuance of shares (to date we have only 86.6 million shares outstanding) and – as shareholders ourselves – we are always looking at ways to keep our share count as low as possible. So, how will we accomplish this when our August 2011 Preliminary Economic Assessment shows a $1.6 billion initial capital expenditure budget?
There is a multitude of project financing options available to resource companies which we are investigating at length. Since September, our CFO has been studying alternatives to equity financing and among the most viable options identified thus far are vendor leasing, convertible debt and gold loans. Vendor leasing from equipment providers such as Caterpillar is industry standard practice and would save us between $400 million to $600 million in upfront mining fleet and equipment costs. Convertible debt instruments, which have risen in popularity over the past two years, provide the Company with initial debt funding that can later be converted to equity at a higher share price. Finally, gold loans allow the potential forward sale of a minor portion (15-20%) of our gold production in the initial years of production at a low borrowing cost. We will provide further details on these and other options when the Prefeasibility Study is published in the first half of 2012.
Second question: is it possible for the Company to produce gold sooner than 2018? Yes, the potential exists. The land transactions completed last week near the Livengood project not only improved our access to infrastructure and site facility locations but also gave us access to near surface placer gold deposits, portions of which were previously mined in a much lower gold price environment. This gives the company an opportunity to look into placer gold extraction that could generate positive cash flows in the near-term while permitting activities are underway for the large-scale Livengood mine. While we are still in the early days and there are no guarantees, we have received the necessary data to begin a full-scale investigation into the potential economics of the project. Towards this objective, we will be engaging an Alaskan firm to complete a Preliminary Economic Assessment on placer mining in the first quarter of 2012. The implications of early production are significant and we will do everything possible to analyze these opportunities.
With all that said, the development of the Livengood gold project is still in its infancy and significant value is anticipated through the achievement of major development milestones in 2012 and beyond. The company plans to complete a Prefeasibility Study (PFS) within the next six months followed by a Feasibility Study and permit applications to technically de-risk the project and move each defined ounce of gold up the "value curve". Adhering to the highest level of technical excellence will lead to successful development of the Livengood mine. (Note: Although there was an opportunity to publish our PFS sooner this past November, an initial review identified opportunities to optimize the metallurgy and CAPEX numbers. I strongly believe that shareholders expect and deserve the best from this team and the decision to extend the publication date ensures that we will put our finest work forward.)
Finally, interior Alaska is an ideal place to develop the Livengood Gold Project. Interior Alaska has a strong history of mining and is home to communities that truly understand and support the industry. The Livengood project also enjoys exceptional access to infrastructure and a highly skilled labor force in the nearby communities of Fairbanks and Minto. The State of Alaska is supportive of responsible development of its resources and has a well-defined legal framework for permitting and mining. Having conducted environmental baseline studies since 2008, we believe that all environmental aspects of the project can be successfully managed in the development of one of North America's newest gold mines.
A summary of my key messages on ITH are below to help get you through these exceedingly tumultuous markets with patience and fortitude:
We maintain 100% ownership of the Livengood project to maximize upside.
Management will focus on strategies that limit shareholder dilution.
Early production and cash generation opportunities will be fully explored.
Major development milestones will be achieved in 2012 and beyond.
Interior Alaska is an ideal place to develop a mine.
I invite you to stay updated on our developments through our Corporate Website at www.ithmines.com, ITH Facebook page or by contacting our Investor Relations Department.
All the best of the Season to you and your loved ones and I look forward to updating you again in the New Year!
Kind regards,

Jim Komadina
President & CEO
International Tower Hill Mines