Natural gas prices near 10-year low amid mild weather, higher supplies in winter 2011-12
Published:
Natural gas prices continued their downward trend this winter as a result of continued high production levels, mild weather limiting heating demand, and robust storage. On March 31—the end of what is considered winter for the natural gas market—spot natural gas prices at the Henry Hub approached $2 per million British thermal units (MMBtu). On April 18, the natural gas spot price at Henry Hub was $1.87/MMBtu. Storage levels were 2,479 billion cubic (Bcf) for the week ending March 30, more than 60% above the five-year average for that week. U.S. population-weighted heating degree days were 18% below normal from November through March, reducing estimated, average residential and commercial natural gas demand by over 6 billion cubic feet per day (Bcfd) compared to the previous five-year average.
Click on the tab headers below to see charts highlighting factors affecting natural gas prices.
Spot natural gas prices near ten year lows during winter 2011-2012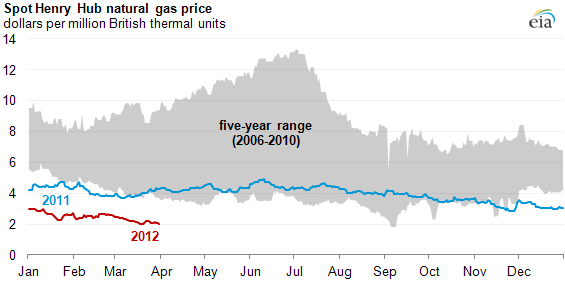 Source: U.S. Energy Information Administration, based on IntercontinentalExchange, Inc.
---
Spot natural gas prices continued their downward trajectory this winter and remained below previous years' levels. Spot natural gas prices at the Henry Hub started 2012 below $3/MMBtu and declined to $2.02/MMBtu at the end of winter (March 31). The April natural gas futures contract settled on March 28th at $2.191/MMBtu, the lowest settlement price for the NYMEX natural gas futures contract in over 10 years. Current spot and NYMEX near-month natural gas futures prices are under $2/MMBtu, as of April 19, 2012.
tags: commercial , demand , electricity , futures , industrial , inventories , Marcellus , natural gas , New England , New York , prices , production , residential , spot prices , states , storage , weather